Introduction
The life of a college student is frequently complicated and filled with certain challenges and downsides. Managing the routine, dealing with college assignments, earning a living, and coping with other aspects may take a lot of time, money, and effort. While certain processes are quite easy to fix, it takes time to arrange others.
Trying to find proper budgeting tips for college students that will work may be a daunting and overwhelming process. However, the struggle is real. Focus on certain financial recommendations that will help you earn and save more while in college.
Budgeting Basics for Students
Getting as many student discounts as possible, using all the coupons in the world, and taking advantage of free celebrations may be interesting, but not enough for students who want to feel comfortable even on a low budget. What are the best student budgeting tips you can use? Are there any recommendations I can share from my personal experience?
Well, it is possible to divide all the college budgeting tips into two categories, including general and specific ones. The most important thing all financial decisions should start with is the analysis. Take your time to write down all the sources of income and expenses you have to make sure these two elements correlate well. Once you are done with this step, you are ready to move to the next one, creating a plan and fulfilling it.
So, the first and most important rule you should remember is that you should not spend more than you earn. From this point on, no matter what you do, you should follow this principle. At this point, it is indispensable to mention that even though the vast majority of students get puzzled when they hear about the necessity of making a budget, it is undeniably the thing that will help you make the plan work. What do you start with? Here are a few interesting budgeting strategies for college students to be used for the achievement of your goals.
Make a comprehensive list of your monthly expenses, including rent, food, transportation, tuition fees, and others.
Predict the miscellaneous things that might require extra funds so that you will not have to cut on some of the important expenses in emergency instances.
Work on your income to make sure you can easily cater to all the needs you have.
While in college, you will never have enough money, but you can always make an effort to make your living easy and convenient, irrespective of the financial struggles and downsides.
Saving Money on Essential Expenses
Spending is easier than saving, but both are the same needed. No matter how complicated it may be to earn a decent living at college, that is the number one goal that will predetermine your success with the rest of your undertakings. Here, it is important for learners to understand that getting a well-paid job may be a prominent part of the plan. It may sometimes be complicated to combine studying with work, but it is 100% worth it. When you get enough money, choosing the budget activities for college students becomes a no-brainer.
Although you may not have the necessary qualifications, enough time, or experience to do certain jobs, you will get a chance to learn how to earn your living and how to budget in college.
Maximizing Student Discounts and Benefits
Do you still wonder how to budget money in college? Taking advantage of student discounts and special prices may help a lot. Additionally, it is critical to mention deals and coupons that help to save a lot. Planned shopping is undeniably a decent way to get things fixed, so make sure you have a detailed list of goods you want to buy as you head to the supermarket. Stick to certain finance tips for college students that will keep you guided and will prevent you from making critical mistakes, like getting credit or using your card for nonsense shopping.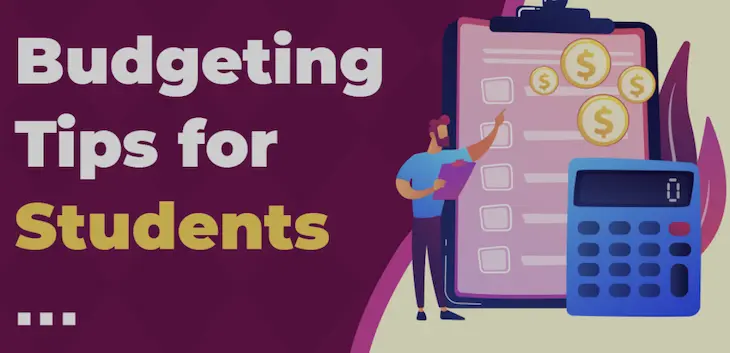 Thrifty Lifestyle Hacks for Students
Are you convinced that general financial advice for college students is of no help to you? Then, stay focused on other options that may help you achieve the desired results and thrive in your well-to-do college life. Analyze the following recommendations and stick to the personal finance tips for college students that seem to work the best.
Prioritize the Debt with the Highest Interest: If you happen to have debts, make sure you take care of the highest interest first. Otherwise, it will lead you to a complete financial failure.
Download Budgeting Add: With the development of technology, keeping track of your income and expenses has become much simpler. Check out some of the most beneficial solutions to monitor your spending.
Break Your Bad Purchasing Habits: Overbuying is usually the result of going shopping hungry. Making up a shopping list may be an excellent solution.
Collaborate with Roommates: Living on campus, you have a chance to save a lot if you start sharing with the roommates. It is not only about responsibility but also about the expenses.
Visit Free Events: There are lots of activities in college that may be used as a source of extra income, food, clothes, or other little things. Apart from the financial advantages you will get, it may be a flawless chance to stay active and social without wasting money.
Generating Additional Income
There is an immense number of budgeting tips and tricks, but none of them will work unless you have a proper source of income. Analyze the market and focus on the projects that may seem the most promising and profitable. Earn as much as you can so that managing your budget will be much simpler.
Financial Health and Long-Term Planning
How useful and beneficial is it to find the best financial advice for a college student? Absolutely important. What is even more critical? Staying consistent is the final goal that will help you thrive. The desire to keep track of the expenses should not be a 2-day or a week-long decision but a continuous desire.
Conclusion
Have you found the necessary advice? Are you ready to become more aware of financial management principles than before? Stick to simple rules to enjoy the flawless and easy process with fascinating results.
FAQs
Studying incurs various expenses—living, meals, entertainment—often outweighing students' limited earning opportunities due to time constraints. Effective budgeting becomes crucial, shaping the comfort and efficiency of student life amidst these financial challenges.
Each student should prioritize money-saving tips that suit them best; there's no one-size-fits-all approach to financial independence. Strategies like securing employment, leveraging student discounts, adopting finance apps, saving a portion of income, among other solutions, are widely applicable.
Students can explore part-time jobs, freelance work, or gig opportunities, utilize skills for tutoring or freelance services, participate in paid internships or research programs, and seek campus employment opportunities.