Executive Summary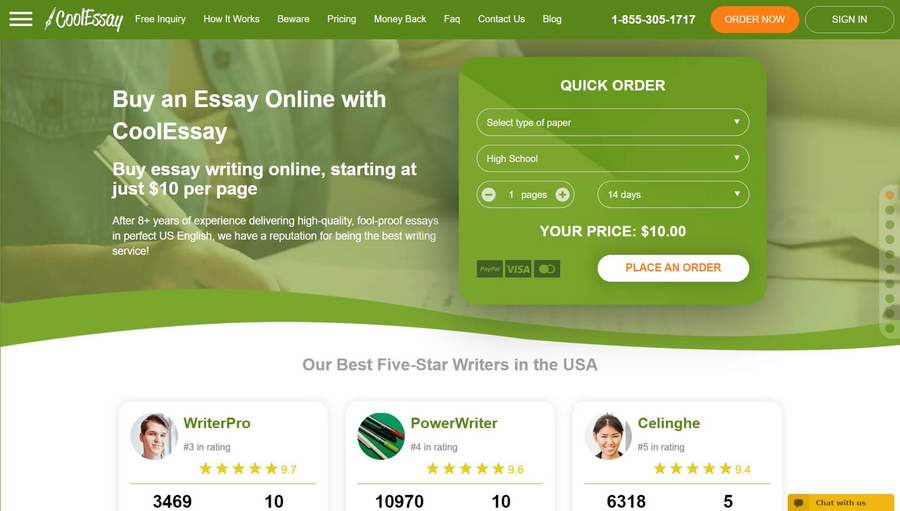 Service features

| | | |
| --- | --- | --- |
| Overall Rating - | The Lowest Price - | Minimum Deadline - |
At first glance, CoolEssay seems to be a reliable writing service. They have affordable prices and a user-friendly website. Everything is clear and simple. However, if you spend some time here, read what the company tells about itself, and communicate with a customer support manager, you will understand that CoolEssay is not as cool as they want to seem. I found too much controversial information and provided examples in this Coolessay review. If you try to get an answer to a murky question, they will do everything they can just not to provide a direct answer. All these facts make me think that CoolEssay has skeletons in the closet.
Service Review
CoolEssay is an online essay writing service which offers writing, editing, rewriting, business writing, and proofreading services. The head office is located in London, but the support team as often happens is in Eastern Europe. On the site, you can find information that the company hires writers from the United States, the UK, and Canada.
However, if you start asking a support manager about writers, you will find out that not all their writers are native English speakers. In fact, you will get a native English-speaking writer only if you choose a Top Writer or a Professional Writer feature. I tried to learn from a support manager about other countries where they have writers from, but she gave me the go-around. Only 20 minutes later, she gave up and told me that I had to address this question to a writer's manager via email.
Pros and Cons
PROS:
10 days of free revisions
Affordable prices
A discount up to 10%, but only upon request
CONS:
Mainly non-native English speaking writers
Awful customer support, although fast
Quality of paper is not perfect
Online reputation
I visited a couple of trustworthy sites with Coolessay reviews. As I expected, customers' comments were controversial. In general, you can divide them into absolutely positive and absolutely negative. Satisfied customers say that they have been using this service for many years and have dozens of well-written papers, while the pissed-off clients say that every assignment they got there was written very poorly. I didn't manage to find coolessay reddit reviews.
Guarantees
CoolEssay guarantees an unlimited amount of revisions within 10 days after you receive a completed order. They also promise a 100% money back policy, but there are many aspects that you have to learn first. Do not expect that you will get a 100% refund once you say "I don't like the paper, return my money, please."Be ready for a long dispute process, and in the end, if you manage to prove that your paper really doesn't satisfy your requirements, you will get a partial refund. The only way to get a full coolessay refund is to place an order and cancel it before a writer starts working on it.
Types of Services
Coolessay offers five types of services: writing from scratch, business writing, rewriting, editing, and proofreading. The most expensive ones are writing from scratch and business writing. When you select the first type of service, you provide the instructions, and a writer completes an essay, a research paper, or a dissertation following your requirements. Business writing means that a writer will do a resume, a CV, a cover letter, or business content.
If you choose rewriting, you have to provide your draft, and a writer will change up to 70% of your content. Editing means almost the same, but a writer may change only up to 30% of your paper. Proofreading predetermines that a writer will not change anything and only correct grammar, spelling, and punctuation errors.
Ordering Process
An ordering process consists of two main steps. During the first stage, you have to select the type of service, academic level, type of paper, topic, instructions, and so on. It is a standard procedure that you can find on many writing services.
The second part includes information about the paper's deadline, number of pages, and some additional services like a category of writer, a Turnitin report, a summary, an editor's service, or a writer's sample.
Prices and Fees
The lowest price here is $10 for a 1-page high school essay. It is not the highest rate that you can find on the Internet, but not the lowest one. Let's say that this price is an average one for this type of service. You can also receive a 5% discount, but you have to contact a support manager. There are no banners or offers that inform you about this opportunity.
I also found that the company promises to provide you with a great discount if you find prices lower than they offer. It was a very harebrained promise since you can easily find a couple of services which offer less than $10 for a page.
I contacted a support manager and said that I found such a service with a lower price and asked about their "greatest discount". It seemed that a manager was not very happy to know that. Nevertheless, she said that the company is ready to give me a 10% Coolessay discount code as an exception. Well, why should it be an exception, if you promised to do so on your website? I have noticed that there are many things that coolessay.com proudly informs about on the website, but they are not eager to do a lot of it until you insist.
Paper Quality
So, could CoolEssay deliver me a cool essay? Unfortunately, no. The quality of the paper was terrible. My worst fears have come true. I chose the Best Available feature (a standard price writer). So, my paper was written by a non-native English speaking writer. That was the reason why I wanted to learn more about their writers. In general, the writer did the best he could. I saw his attempts to make analysis and research, but the low level of English made it impossible for him to provide an excellent assignment. I appreciate the writer's efforts, but the company should at least have proofread the paper before sending it to me.
Customer Support
That was probably the worst experience I've ever had. I wanted to get an answer only to one question, "Where are your non-native English speaking writers come from?" A very simple question, isn't it? And I suppose I have a right to know this piece of information. Besides, they mention proudly on their site that they have writers from the UK, the USA, and Canada.
So it is not secret information if you tell me about your native speaking writers. Instead of providing me with a direct answer, the customer support agent first said that it was against privacy policy.
I read it, and there was not a single word about that. Then she said that she did not have such information. After that, she offered me to tell what writer's location I am interested in.
Gosh! I just wanted to get a simple answer to a simple question. When I started insisting on telling me the countries of origin of their writers saying that it is not some sort of private information, she disconnected.
I was extremely disappointed with such an attitude towards customers! I even started thinking "Is Coolessay legal?" If the company openly provides information about native speaking writers and avoids at all cost information about the non-native writers, then there must be something they want to hide from the customers.
Maybe their writers are kids from Africa. That would explain those negative comments about the poor quality of papers that I found on the Internet about Coolessay.
Offers and Extra Services
Coolessay offers three categories of writers: Best Available, Top Writer, and Professional.
The Best Available category of writer costs the standard price. The company assures that your paper will be of a good quality performed by one of the writers available at the moment.
For a Top writer, you have to pay 25% additionally. In this case, they promise to assign a writer with a 5-year of experience in your field. Besides, they also guarantee that it will be an English native speaker.
The Professional category of writer costs an additional 30%. If you select this feature, the company will assign a writer with the highest rate according to the customers' feedback.
There are also other features that require additional payment. Some of them can be helpful like a Turnitin report or a summary. However, I cannot understand why I should pay for an editor's service or a writer's sample.
As for me, these services should be free since it is the company's obligation to assure the client that the writers can do their work competently and the papers they deliver do not contain mistakes.
Visit site