Executive Summary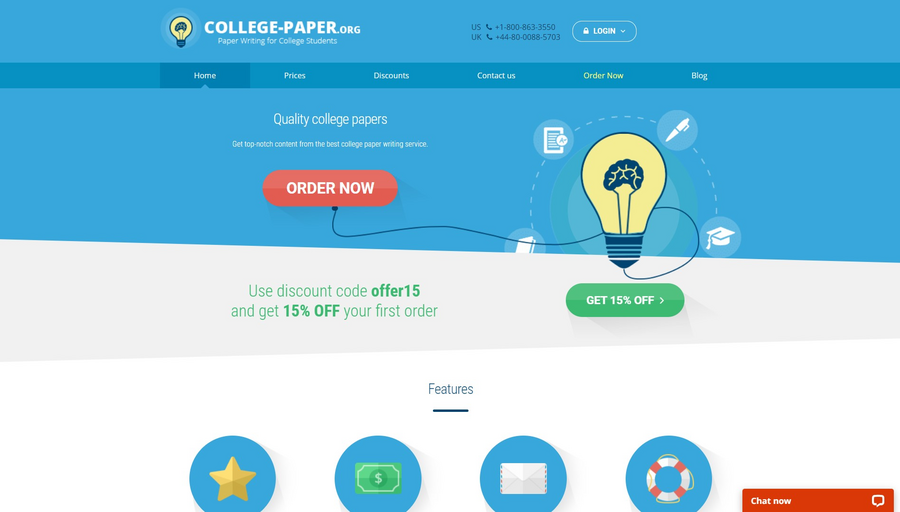 Service features

| | | |
| --- | --- | --- |
| Overall Rating - | The Lowest Price - | Minimum Deadline - |
College-paper.org: scam or not? Considering the money I paid and the paper I received I feel like I've been fooled. Despite friendly customer support, the writing quality is not consistent with their promises.
Service Review
College-paper.org seems reliable and trustworthy at first glance. It also is quite user friendly and doesn't contain too much written text that people get bored to read. But judging from my experience they didn't indicate exactly the whole truth there, Especially when talking about the quality.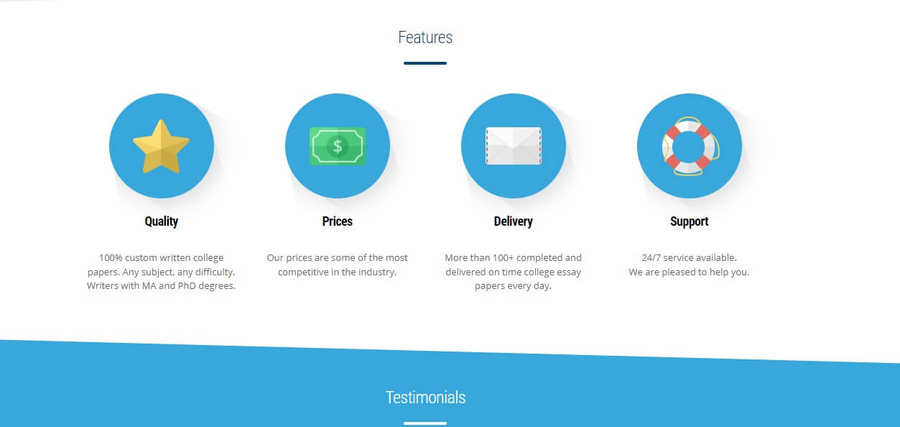 There are positive reviews and the 24/7 live chat. However, they definitely overcharge, and their freebies and add-ons are ridiculous. So is college-paper.org legit? Finish this College-paper.org review to find out!
Pros and Cons
PROS:
15% off your first order
Prompt and friendly support managers
Loyalty discounts
CONS:
Outlandish prices starting at $19.99
Wordy, nonsensical writing
No money-back guarantee
Non-existent college-paper.org reviews
Online Reputation
When I searched for college-paper.org, Reddit returned zero results. The same happened with SiteJabber. However, I could find a single 4-star college-paper.org review on Trustpilot that included complaints about typos and sentence structure. Unsurprisingly all college-paper.org reviews posted on the website are positive, though I wouldn't rely on them.
Guarantees
There is no Money-back guarantee per se, but users are liable for a college-paper.org refund if they file a request within 72 hours of receiving the order. You must provide solid proof the paper is of low quality to get the money back.
Interestingly, the company may request the copies of your credit card, passport or ID to verify the billing information. The verification deadlines are tight. For instance, if your order's urgency is under 12 hours, the company expects you to upload the copies within 20 minutes of receiving the notification.
Types of Services
College-paper.org specializes in:
Academic writing
Admission help
Editing
Proofreading
Formatting
Dissertation services
Problem-solving
Multiple-choice questions
Presentations
Ordering Process
Order process is standard:
Press the big red button "Order now" on the main screen.
Explain your paper requirements.
Choose add-ons if you want to waste more money.
Provide your contact info to create an account.
Select your currency and settle the bill.
Download the finished paper once it's ready.
Prices and Fees
Starting at $19.99 per Standard quality page, college-paper.org is outside my usual price range.
| | |
| --- | --- |
| Services | Price per unit |
| Academic writing | from $19.99 to $52.99 per page |
| Admission services | from $18.99 to $43.99 per page |
| Editing | from $10.99 to $26.99 per page |
| Proofreading | from $5.99 to $12.99 per page |
| Formatting | from $1.99 to $8.99 per page |
| Dissertation services | from $21.99 to $44.99 per page |
| Problem-solving | from $15.99 to $67.99 per problem |
| Multiple-choice questions | from $2.70 to $10.95 per question |
| Presentation | from $14.00 to $36.00 per slide |
The company boasts some ridiculous free goodies. For example, they make "free email delivery" sound like a gift, though no one would pay $10 for getting the order delivered to their Inbox. Revisions are also free though the Quality Assurance department may rescind this right if they decide you've had enough edits.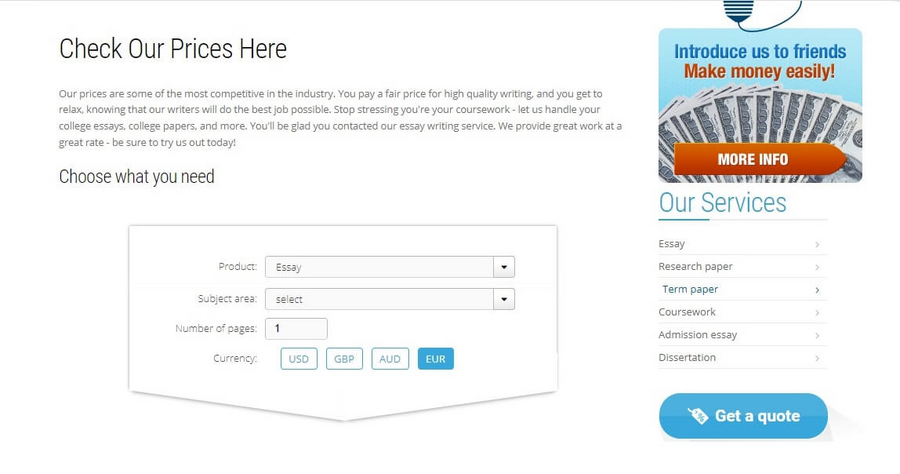 Paper Quality
As always the College-paper.org reviews that I've found on the Internet were perfect and all like one were telling about professional writers and paperwork of high quality. But what did I get? Well, nonsense if you use one word. The topic of my 4-page essay was the decrease in the birth rate. And it wasn't like I asked to write an essay within one day. The deadline was 10 days, but as I found out later it wasn't enough for the writer. Statistics that were not up to date, two ideas that were repeated and expressed in different words during the whole essay - that's what I got for $80. Moreover, I wasn't interested in the author's opinion about whether it's worth or not worth having a child. I was looking for profound research based on statistics and facts. And I've got a total mess created most probably by someone who has absolutely no experience in this topic. So my College paper review can be only negative because no one wants to pay money and then waste their time correcting the work done by some so-called specialist.
Customer Support
I always pay attention to customer support, and this College-paper.org review will not be an exception. In my mind, the support can somehow change the opinion about the service, even if it was really bad. The support I talked to, Regie, was actually very helpful; he answered pretty quickly on all my questions and explained to me a couple of things I didn't understand regarding the ordering process. I talked to Regie about the editing service. So in general I can say that I was totally satisfied with the work of Customer support, even though I didn't like the final quality of the paperwork I received.
Offers and Extra Services
I've read about it in some of the College paper reviews and actually, I saw that myself that they offer a special discount for all the new customers, as far as I understood 15 %. But considering the fact that they asked for email, I expect that you will receive not only a discount but also a lot of spam later. But the discount itself was a good thing because if you want to order some extra services as well it will cost you a lot: I can't say that they are student-friendly.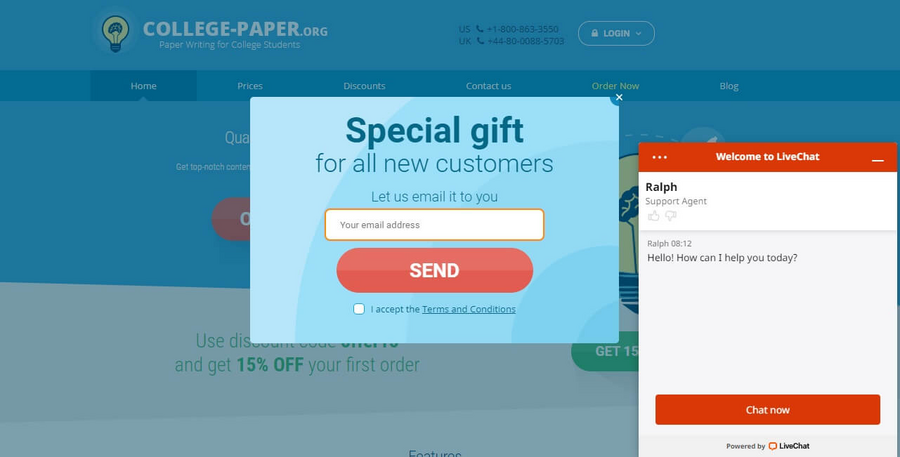 For example, if you specify the exact writer you want to work on your paper, add 20% to the order total.VIP support is $7.99, proofreading by a professional editor is $5.00. If you want a UK writer, you must pay $1 extra.
FAQ
| | |
| --- | --- |
| is CollegePaper legit? | It's possible to request a refund due to a bad quality but be ready to provide arguments and evidence. Please note that you have only 72 hours for it. |
| CollegePaper scam? | You may be worried about the lack of reviews, but it's a real writing service. They wrote my paper, but I expected better quality. |
| CollegePaper safe? | Yes, but they don't have a money-back guarantee. You can find just some cases when it's possible to request a refund. |
| is CollegePaper reliable? | It was a good idea to order one page because their prices were really high. I got it on time and with correct formatting, but the writing was odd and full of rarely used words. |
| is CollegePaper trustworthy? | I never trust reviews on the official company websites, so I went to other platforms, but it was unsuccessful. Only Trustpilot had a 4-star review that made me doubt in the company. |
Visit site