Executive Summary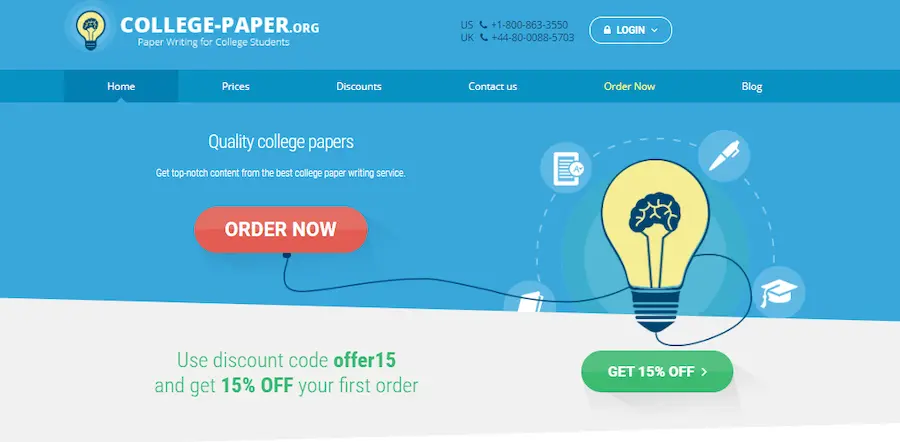 Service features

| | | |
| --- | --- | --- |
| Overall Rating - | The Lowest Price - | Minimum Deadline - |
College Paper.org presents itself as a user-friendly and seemingly reliable writing service. Initially, it offers features like 15% off for new orders and 24/7 live chat support. However, my experience was far from satisfactory. The writing quality was inconsistent with their promises, characterized by wordy and nonsensical content. Moreover, their pricing is outrageous, starting at $19.99 per page, which is steep for the average student. Despite the friendly customer support, the overall experience left me feeling deceived, as the final product did not align with the high expectations set by their website​​​​​​.
Company Overview
College-paper.org, at first glance, projects an image of trustworthiness and reliability. They offer various services, including academic writing, editing, and proofreading, catering to various academic needs.
However, the company's pricing policy appears to be geared towards higher rates, with charges starting at $19.99 for standard quality pages and stretching up to $52.99 per page for certain services. Despite their wide range of services, such as dissertation and problem-solving assistance, their value proposition is diminished by their high pricing structure and questionable quality of writing.
Honest User Experience
And now I will provide my honest College Paper review! Ordering from this website was a straightforward process involving selecting services and payment. However, the overall experience was underwhelming. The paper was of poor quality, with outdated statistics and repetitive ideas, not reflecting the professionalism and expertise claimed by the website. This discrepancy between expectation and reality and $97.48 for a 4-page essay made the service feel overpriced and inefficient.
Pros and Cons
PROS:
15% off your first order
Prompt and friendly support managers
Loyalty discounts
CONS:
Outlandish prices starting at $19.99
Wordy, nonsensical writing
No money-back guarantee
Non-existent college-paper.org reviews
Types of Academic Services
College-paper.org specializes in:
Academic writing
Admission help
Editing
Proofreading
Formatting
Dissertation services
Problem-solving
Multiple-choice questions
Presentations
College-Paper.org Paper Quality
I ordered a 4-page essay on declining birth rates from College Paper, expecting a high-quality, well-researched paper. However, the outcome was extremely disappointing. The paper was riddled with outdated statistics, redundancy in ideas, and lacked depth in research. It seemed like the writer had little to no expertise in the subject matter.

Instead of presenting well-researched facts, the paper included the writer's opinions on the topic, which were irrelevant and unprofessional. The quality was poor, failing to meet the basic academic writing standards and not justifying the $97.48 price tag. This experience with College-Paper only reinforced my negative view of their services.
Cost Overview
Price Levels
Starting at $19.99 per Standard quality page, college-paper.org is outside my usual price range.
| | |
| --- | --- |
| Services | Price per unit |
| Academic writing | from $19.99 to $52.99 per page |
| Admission services | from $18.99 to $43.99 per page |
| Editing | from $10.99 to $26.99 per page |
| Proofreading | from $5.99 to $12.99 per page |
| Formatting | from $1.99 to $8.99 per page |
| Dissertation services | from $21.99 to $44.99 per page |
| Problem-solving | from $15.99 to $67.99 per problem |
| Multiple-choice questions | from $2.70 to $10.95 per question |
| Presentation | from $14.00 to $36.00 per slide |
The company boasts some ridiculous free goodies. For example, they make "free email delivery" sound like a gift, though no one would pay $10 for getting the order delivered to their Inbox. Revisions are also free though the Quality Assurance department may rescind this right if they decide you've had enough edits.
Discounts
Regarding discounts, College-Paper.org offers a 15% discount on the first order, which initially seems appealing as a cost-saving opportunity for new customers. However, this College-Paper.org discount code doesn't quite compensate for the overall high pricing of their services.
College-Paper.org Ordering Process
Order process is standard:
Press the big red button "Order now" on the main screen.
Explain your paper requirements.
Choose add-ons if you want to waste more money.
Provide your contact info to create an account.
Select your currency and settle the bill.
Download the finished paper once it's ready.
Global Web Reputation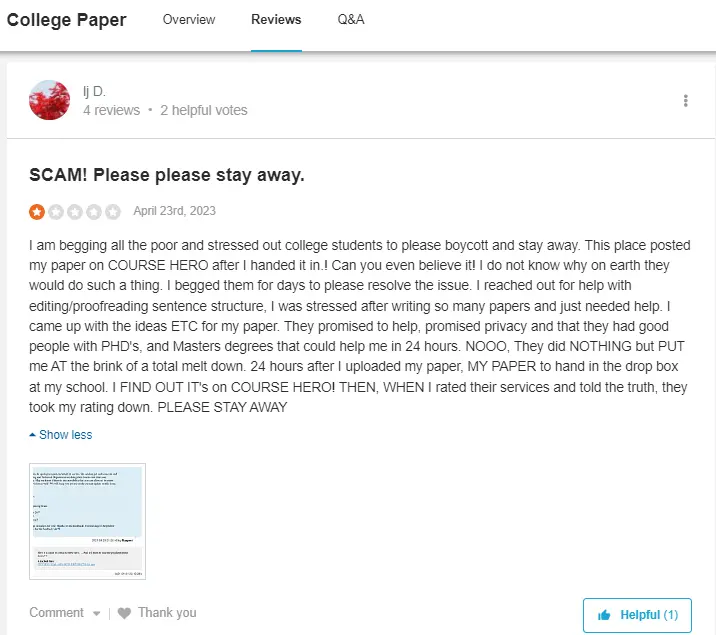 In my comprehensive analysis of College Paper.org reviews, I explored feedback across various platforms, including Reddit, Quora, SiteJabber, and TrustPilot. The overarching sentiment in these College Paper reviews is predominantly negative. A common thread in these reviews is dissatisfaction with the quality of papers delivered. Many users express frustration over poorly written content, which often fails to meet academic standards.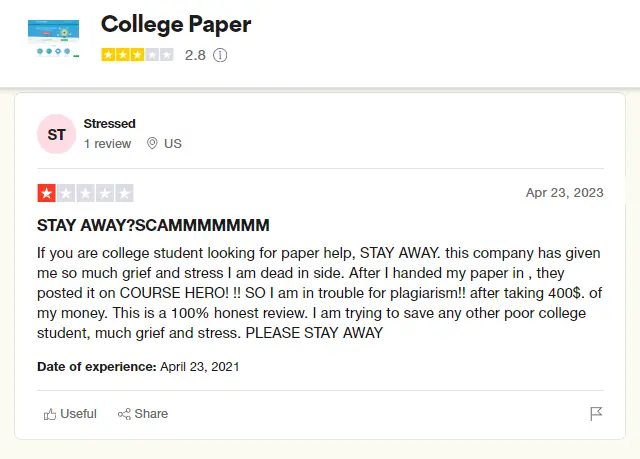 Is College-Paper.org Reliable?
Based on my experience and the collective feedback from various review platforms, I would hesitate to regard College Paper as a reliable service provider. The consistency of negative College-Paper.org reviews, pointing towards substandard writing and a lack of adherence to academic rigor, raises serious doubts.
The issues are not isolated incidents but appear systemic, suggesting inherent flaws in their service delivery model. Therefore, I believe College Paper falls short of the reliability one would expect from a professional academic writing service.
Official Guarantees
College-Paper advertises certain guarantees, such as a refund policy where customers can request a refund within 72 hours if they provide substantial proof of poor quality. However, the company's demand for personal documents like credit card copies, passports, or IDs for billing verification raises privacy concerns. These stringent requirements, coupled with the high possibility of having refund requests denied by their Quality Assurance department, significantly diminish the credibility of their guarantees.
My Verdict
In conclusion, this College-Paper.org review reflects a disappointing experience. The service fails to deliver on its promises of quality and reliability. Despite their responsive customer support, the core offering – academic writing – is subpar, making it hard to recommend Collegepaper as a trustworthy academic assistance service.
Visit site