Executive Summary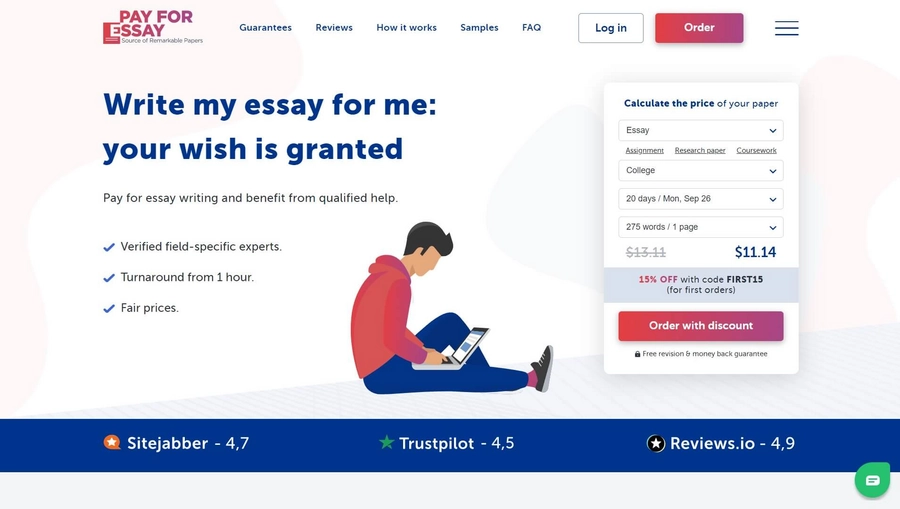 Service features

| | | |
| --- | --- | --- |
| Overall Rating - | The Lowest Price - | Minimum Deadline - |
In this PayForEssay.net review, I am going to analyze an essay writing company which is not new in this business. They claim to have only ENL writers and offer suspiciously low payment for such type of service. Their reputation on the web is controversial and ranges from "excellent service" to "incredibly unprofessional." There is plenty of PayForEssay.net reviews, and they all contain different opinions which may confuse a reader who has never used this website before. Hence, if you want to know an opinion based on facts but not suggestions, read this review and discover what PayForEssay can offer you.
Service Review
According to information that PayForEssay has placed on its About Us page, the company has been active for 12 years. In the beginning, they provided only dissertation writing help but later started extending their range of services and hiring writers for doing essays, research papers, and other types of works.
Their team numbers around 3,000 writers. And the company states they have PhD experts for dissertations and writers with a Master's degree for other tasks. If it is true, your high school essay will be written by a pro. PayForEssay also assures that all their writers are native English speakers.
I looked through the samples that I found on PayForEssay, and they were of good quality. However, when I paid my attention to a list of references, I was disappointed. About 95% of the sources that they used in samples were outdated.
When you write an academic paper, you cannot use references which are older than five years. Hence, if it is 2018, the oldest source in your list of references has to be of 2013. Otherwise, the citations will not be viewed as credible by your professor. If you submit a paper with such a list of references, be sure you will never get an A even if the work is brilliant.
Take into account that samples the companies provide are usually better than the papers they write. So, if they make such mistakes in the samples, the company is not as perfect as it seemed to be in the beginning.
Pros and Cons
PROS:
Good prices
Claim to hire only ENL writers
15% first order discount
CONS:
Outdated samples
Controversial online reputation
Annoying extra features
Online reputation
When I first came across Payforessay.net, I had high hopes for the quality of its services. However, a quick search for Pay For Essay reviews online revealed mixed opinions. Many clients raised concerns about the writers being unable to follow instructions properly, resulting in ridiculous mistakes in the academic papers. These Payforessay reviews were not isolated incidents. Several customers reported that their essays contained errors a professional writer should never make.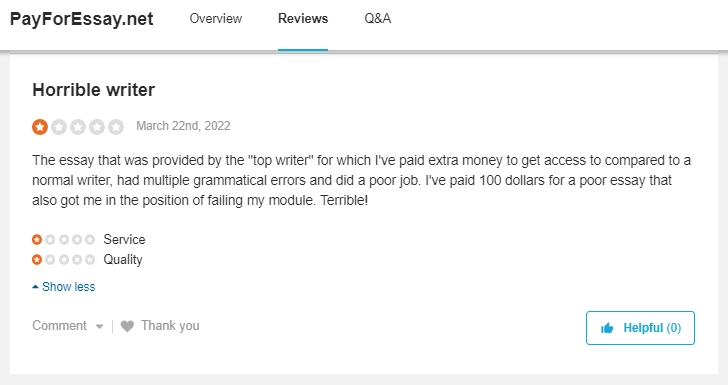 For instance, some papers had incorrect formatting, typos, and plagiarized content. Others complained about the writers' inability to grasp the nuances of their assigned topics or properly research the subjects. This aspect led to superficial essays that lacked substance and did not meet the expectations of the students who paid for them. Now let me continue this Payforessay.net review, as there is something else you should know about.
And now I want to find an answer to a question which bothers all those interested in this writing company, "Is PayForEssay.net safe?" Well, let's check what else they offer.
Guarantees
Is PayForEssay.net legit? To get an answer to this question, let's see what guarantees PayForEssay provides to its customers. Payforessay.net does offer refunds and revisions as part of their guarantees. However, after examining their terms and conditions, it becomes apparent that many clauses are described too vaguely.
The lack of clarity leaves room for interpretation and speculation, which could potentially put customers at a disadvantage. The company might intentionally create loopholes that allow them to avoid fulfilling their guarantees or providing satisfactory services. Customers should be cautious of such practices, as they may feel deceived or mistreated. As you can see, this Payforessay review showed new aspects that the company was hiding so carefully.
Types of Services
PayForEssay provides a very standard type of service. I didn't find any specific offers that you cannot find at other essay writing services. I would even say that here you can find the same type of works that are offered by every writing company.
Ordering Process
Surely experienced students would have coped with this procedure without the analysis of Payforessay.net reviews. But I want newbies to know where to start. The process of ordering papers on Payforessay.net is quite straightforward. Here are the steps to place an order:
Visit their website and click on the "Order Now" button.

Fill in the order form with the necessary details, such as the type of paper, academic level, deadline, and any specific instructions.

Choose any additional services or features you may need.

Provide your contact information and proceed to the payment page.
Once you complete these steps, your order will be placed. However, considering the issues mentioned earlier with the quality of their work, it's worth being cautious before entrusting your academic success to Payforessay.net.
Prices and Fees
What prices does PayForEssay offer to its customers? I would say the cost of their papers is affordable. Not the lowest that you can find on the Internet, but not too high as some companies require for such service. The price for a 1-page high school essay with a 20-day deadline will be $11.15.
If this price is still too high for you, the company has a 15% first order discount. That's a huge payoff, especially if you take into account that they do not overcharge the customers with extremely high prices.
Paper Quality
I can say with no doubts that the paper I received was not written by an ENL writer. The level of English was good, but not perfect. Especially, if you take into account the company's statement that PayForEssay initially worked only on dissertations. My order contained some minor errors, but I didn't request a revision. For me, it was enough to understand that the company doesn't hire only native English-speaking writers as they claim.

Customer Support
While customer support should be a helpful and reassuring aspect of any service, Payforessay.net's support agents appear to focus more on upselling than providing genuine assistance. Many customers have reported that these agents fly at students like flies, obsessively offering extra services and features, even when not requested.
They seem to ignore the objections and desires of potential customers, prioritizing their pursuit of profit over client satisfaction. This aggressive sales approach can be off-putting and may lead to a negative experience with the company. That is why you should remember this part of my Payforessay net review, as this company is not worth your attention.
Offers and Extra Services
I want to sum up this PayForEssay review with a list of extra offers that a company has. You can request a top writer who will cost you an additional 30% of your order price. A plagiarism report is $14.99. For a 1-page summary, you will pay an extra $24.99.
There is also such feature as a high-priority order for $9.99. They promise that with this option your order will be the first taken by a writer. However, as for me, it is just a waste of money. Writers take those orders which they can do well. If your order seems simple to a writer, he or she will take it first anyway.
There is one more feature which knocked me off kilter. The company offers extra QAD check. I have never understood why I should pay additionally to get somebody to proofread my paper. I am paying your service to get a well-written paper, and I have to pay again to make sure that you have done everything well? What?? The last word in this story is the price. This feature costs about 90% of the price that you pay for your order. Seriously, I have no idea why anyone should have to spend so much for proofreading.
Visit site