Executive Summary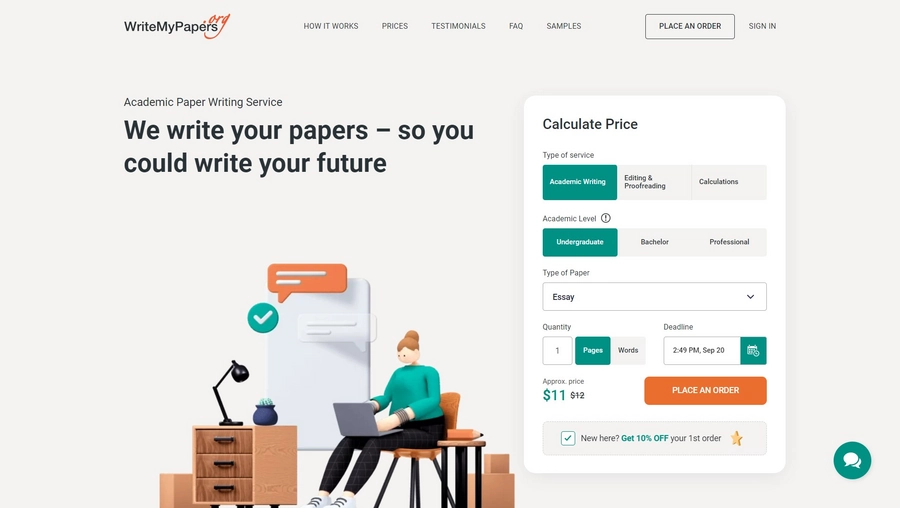 Service features

| | | |
| --- | --- | --- |
| Overall Rating - | The Lowest Price - | Minimum Deadline - |
This review tells you about quite a popular custom writing site on the internet. I reviewed it all main features and pitfalls to avoid. There are some discrepancies that drew my attention. I tried to cover all points you need to take in account before placing an order with this guys. Hope it will help you.
Service Review
Writemypapers.org provides a number of custom writing services like doing a research paper, essay, problem-solving, multiple-choice questions along with other types of academic papers. The site has quite an interesting price calculator - you can choose different options on the interactive board, and the price for your order will be shown instantly.
When I stumbled upon the options for Academic Level, I was genuinely perplexed. There were three distinct choices available: Undergraduate, Bachelor, and Professional. At first glance, it isn't very clear. Isn't "Undergraduate" synonymous with "Bachelor's degree"? The term "Professional" further added to the confusion. It begged the question, if one were to select the Undergraduate or Bachelor level, would the resulting output be of inferior quality or even unprofessional?
Curious and keen on understanding these terminologies better, especially since I considered using their "Write My Papers" service, I decided to reach out for clarification. My first stop was the customer support. However, I was prompted to fill out a form with my email address before I could delve into a conversation. I couldn't help but wonder if this was a strategy on their part to gather emails for future marketing campaigns or promotional endeavors.
After providing the necessary details, I sent my query, eagerly awaiting a response. To my dismay, I never received an explanation about the different academic levels. It left me pondering if others who might have read a "Write My Papers review" experienced a similar hurdle. Before committing to such services, it's crucial to have a transparent understanding of their offerings, and the lack of clarity in such fundamental aspects was certainly disconcerting.
Pros and Cons
PROS:
They can write a paper in 3 hours
They don't seem a scam services
A live chat with support
User-friendly website
CONS:
Unclear Academic level option
Slow supports
Tricky refund and revision policy
Numerous annoying pop-ups
Quality of sample papers
Many bad reviews on the Internet
Online reputation
I decided to go online and check what people say about this service. I keyed in writemypapers.org reviews and I saw that many customers look for writemypapers hub reviews. I clicked on it but never found any hub review on this service. So I returned to my initial search query and discovered quite many different reviews.
For example, on one of the most trusted sites like SiteJabber, out of 136 reviews, 42 people gave them 1 star.
It means that 30% of those who ordered from them were completely unsatisfied. People complain that they don't observe deadlines, the quality is bad, plagiarism, and TOP writers don't write any better than any other writer type. I went further and searched for writemypapers customer reviews. I found many different reviews on another popular review essay site but the people's complaints were the same:
Guarantees
Their guarantees are quite murky and you have to read them several times not to get hooked by them. They have a refund policy which is not different from an average custom writing service. The full text can be found in Terms of Use https://www.writemypapers.org/terms-of-use.html
Types of Services
The types these guys offer are as follows:
Essay writing
Report writing
Speech writing
Dissertation writing
Thesis writing
Research paper writing
Term paper writing
Assignment writing
Homework writing
Personal statement writing
Coursework writing
Academic paper writing
College paper writing
Article writing
Writing tips
Ordering Process
When considering purchasing Write My Papers.org, the initial step is creating an account. They've streamlined the process for convenience. All that's required from you is basic information: your First name, Last name, email address, and cell number. Once these details are entered, simply click the Register button. And just like that, you're part of their online community with your account.
Following the registration, you're immediately redirected to the order form. This form is where the magic happens, and you detail your specific requirements for the service. The design and layout are intuitive, and the steps are outlined clearly, ensuring a hassle-free experience. For those who might be wary of lengthy and complex ordering processes, rest assured. I was pleasantly surprised by the efficiency of the process. From start to finish, I spent less than five minutes completing the form and processing my payment.
For anyone reading a Write My Papers.org review, this ease of ordering might seem too good to be true. But in my experience, the platform genuinely prioritizes user convenience. The entire experience felt seamless, making it evident that they value their customers' time and strive to deliver a smooth and efficient service.
Prices and Fees
1 page with 14 days deadline without any additional features will cost you $12. If you want a TOP writer, you have to pay 45% more than usual. If you need a paper in 3 hours, get ready to fork out $43 per page for an undergraduate-level paper. I also tried to search for any discounts or promo codes at writemypapers.org but no luck. I tried different search combinations like writemypapers discount or writemypapers.org coupon but didn't manage to find any information on promo codes.
Paper Quality
In my quest to understand the service quality, I decided to conduct a small experiment. Going by the various Writemypapers org reviews I had come across, I thought it best to experience the service first-hand. I placed orders for two 1-page personal statements. For one of these orders, I opted for an ordinary writer; for the other, I decided to invest more and selected a TOP writer. With a comfortable buffer of a 14-day deadline, I eagerly awaited the results of my experiment.
The punctuality was commendable as both papers were delivered within the stipulated deadline. However, things got a bit murky when evaluating the content. Contrary to my expectations of seeing a significant difference in quality, especially given the distinction in writer expertise, both papers seemed strikingly similar. It was somewhat disconcerting.
Moreover, upon closer inspection, it became evident that the documents likely weren't crafted by native English speakers. There were certain linguistic errors and quirky phrasings that are typically characteristic of non-native writing. Such nuances can significantly impact a personal statement's perceived professionalism and authenticity.
In light of my experience, if I were to contribute to the pool of Writemypapers.org reviews, I'd be inclined to give these papers a middling score of 3 stars. While the service was timely and the process smooth, the final product left something to be desired.
Customer Support
My first interaction with their support department left me feeling optimistic. The initial responses were swift and courteous, indicating a level of professionalism I genuinely appreciated. However, the narrative began to shift when I probed a bit deeper. Armed with a few challenging questions, I hoped to understand more about their services, especially the potential benefits of using a Writemypapers.org discount code.
Surprisingly, there was radio silence instead of the earlier prompt and thorough answers. My inquiries seemed to have hit a dead end, which was frustrating and upsetting. Every client, irrespective of the nature of their questions, deserves respect and a proper response. An efficient support team should facilitate smooth transactions and serve as a reliable source of information, especially regarding queries about potential discounts or promotions.
Offers and Extra Services
This platform offers various additional features that customers can opt for, including VIP customer service, selecting a Preferred writer, Plagiarism reports, an Abstract page, a Table of contents, and an Editor's check, among others. However, upon closer inspection, the value proposition of some of these add-ons becomes questionable.
Many competing platforms, such as SpeedyPaper or UKEssays, offer some of these features as standard inclusions without any extra charge. To put it into perspective, the luxury of choosing a preferred writer, a premium feature here, comes at no additional cost when ordering from these other platforms. The same goes for elements like the Abstract and Table of Contents; they are typically considered foundational components of an academic paper and are usually provided complimentary.
Visit site