Executive Summary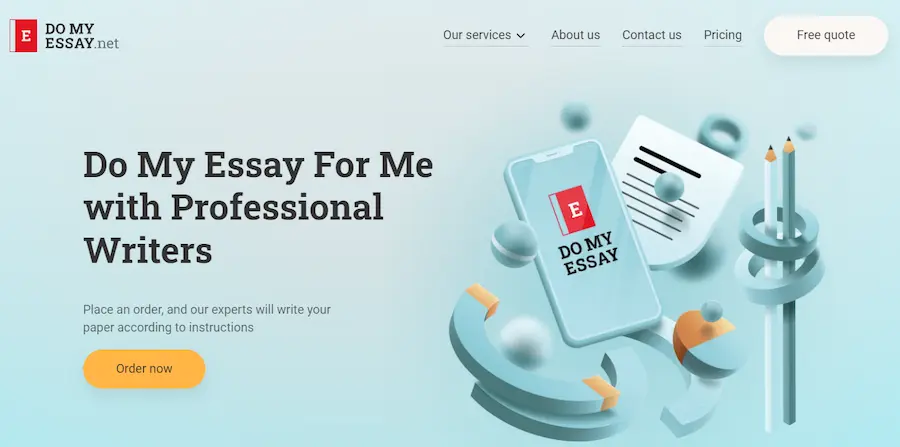 Service features

| | | |
| --- | --- | --- |
| Overall Rating - | The Lowest Price - | Minimum Deadline - |
My professional assessment of Domyessay is mixed. While I appreciate their structured refund policy and the variety of academic papers they offer, including a wide range from essays to theses, I am troubled by several aspects. Firstly, the absence of positive reviews on major platforms like Reddit and Trustpilot raises concerns about their online reputation. Secondly, using non-native English writers often results in subpar paper quality.
Domyessay.net Overview
Domyessay.net, a Hong Kong-based company, presents itself as a provider of a broad array of academic writing services. However, its market positioning is questionable. Despite being based in Hong Kong, US and UK phone numbers on their site may lead to some confusion about their actual location. This Domyessay review reveals that the company's objective seems to focus on offering affordable writing services, but this comes at the cost of employing non-native English speakers. The question, "Is Do My Essay legit?" emerges from these observations.
User Experience
Regarding the user experience at Domyessay.net, ordering a paper was straightforward without any surprises. The steps involved selecting the academic level, discipline, topic, and instructions and choosing the formatting style and deadline. The payment was conveniently made via PayPal. However, the overall experience was marred by the subpar quality of the paper received and unsatisfactory customer support. These factors lead to questioning, "Is Domyessay legit?" and cast a shadow on the credibility of Domyessay.com reviews.
Pros and Cons
PROS:
Average rates starting at $10 per page
Smart essay feature adds comments and prompts to the paper
CONS:
No positive feedback outside the website
Non-English-native writers
No customer support on Sundays
No writing samples
Types of Services
Need honest Do My Essay reviews? Domyessay.net offers a diverse range of academic writing services catering to various needs of students. This Do My Essay review highlights their extensive services, spanning simple essays to complex research papers and theses. Here are the services offered:
Essays (various types);
research papers;
term papers;
coursework, etc.
Despite this extensive list, Domyessay.net notably excludes papers in critical fields like Nursing, Engineering, and Medicine, citing ethical reasons.
Real Paper Quality
I ordered a 5-page rhetorical analysis essay for this Do My Essay review. The process was seamless, but the resulting paper was a disappointment. The essay lacked depth and clarity, with incoherent sentences and unnecessary filler words. The writer's struggle with the English language was evident, which greatly affected the quality of the analysis.

The lack of understanding of the rhetorical concepts and poor structuring of arguments led to a paper that would hardly secure a passing grade. This experience with Domyessay.com indicates a gap between the services promised and the quality delivered, overshadowing any positive aspects of their service.
Cost Overview
Prices
High-school level prices start at $10 per page and go all the way up to $25 (on an 8-hour deadline). Postgraduate writing rates are between $27 and $48 per page. Getting an advanced writer to work on your paper adds 25% to the order total and hiring an ENL writer is worth extra 30%. Slides and charts start at $5 each and can cost up to $13.50 for Ph.D. students.
Domyessay.net Discounts
Regarding discounts, Domyessay.net does not prominently feature a Domyessay promo code or a systematic discount scheme for first-time or returning customers. While the site hints at special offers being sent directly to customers' inboxes, in my experience, no immediate discount was provided when ordering.
Ordering Process
There were no surprises in the order process at domyessay.net. I chose an academic level, filled in the discipline, topic, and instructions fields, selected the appropriate formatting style, deadline, and steered clear of additional services. At last, I created an account, provided payment data and paid via PayPal.
Domyessay.net Online Reputation

In my thorough analysis of Domyessay.net's reputation, I delved into various platforms, including Reddit, Quora, Sitejabber, Trustpilot, and other review aggregators. So, are you ready for Domyessay reviews Reddit? The consensus from all these sources is predominantly negative. A common theme among the reviews is the poor quality of the papers provided. Many Do Myessay users expressed dissatisfaction, stating that their assignments were poorly executed and did not meet academic standards.

Is Domyessay.net Reliable?
Based on my experience and the reviews gathered, my opinion about Domy Essay and its reliability is unfavorable. Despite their broad range of services and seemingly structured processes, the poor quality of writing undermines their credibility. The Domyessay reviews on Reddit and other platforms reinforce this view, painting a picture of a service that struggles to deliver academically sound papers.
Domyessay.net Guarantees
Domyessay.net offers a structured refund policy accessible through the Domyessay login. They promise a full refund if customers are dissatisfied with the quality of the paper, provided the complaint is filed within 14 days with evidence of the paper's poor quality.
Verdict
In conclusion, this Domyessay review finds the service lacking in several key areas. While they offer a wide range of services and a structured refund policy, the poor quality of writing and negative online reviews overshadow these features, leading to a negative overall impression.
Visit site