Executive Summary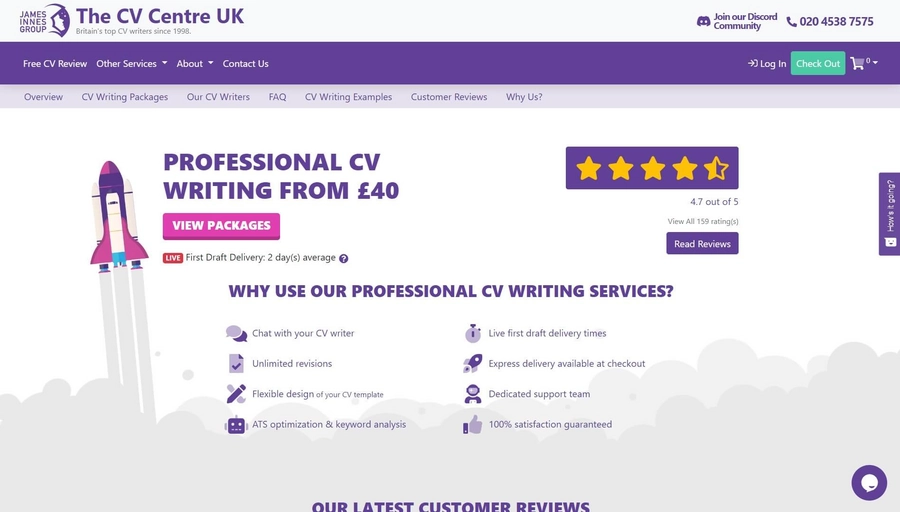 Service features

| | | |
| --- | --- | --- |
| Overall Rating - | The Lowest Price - | Minimum Deadline - |
The CV Centre promises to rewrite your CV as many times as needed to get you 100% satisfied. What that really means is that you will not know how long it will take for a writer to provide you with a satisfactory paper. It's good that they have a money-back guarantee, but it seems that it's better to avoid using the service at all than hope that you will be lucky and get a competent writer.
Service Review
The CV Centre is a popular and well-known CV writing company. It was founded in 1998 by James Innes, a career's author of several best-selling books, which can also be ordered on the site among other services. And while there is an option to order a CV written by James, the founder and the Chairman of the company, the majority of papers are naturally written by standard and senior writers. It's also 2 to 5 times cheaper than getting it done by the guru himself, and I hoped this would not be relevant for the quality as well. So, I decided to find out and prepared this Cvcentre.co.uk review covering the results of my investigation.
Pros and Cons
PROS:
A free CV review
A money-back guarantee
CONS:
Long waiting periods and missed deadlines
It takes too many drafts to get things right
Questionable improvements
Online reputation
To see what the feedback on the CV Centre is, I went to TrustPilot, and, honestly, there was more than enough to explore there. The page contained over 800 CV Centre customer reviews, and the overall rating of the company was 4 out of 5 stars. That's quite a good and believable rating, and I thought that the CV Centre must really be a legit service doing a good job and helping their clients.
However, it caught my attention that in total, 20% of those who left their feedback were unsatisfied with the company. Most of them were complaining about the same things, namely poorly written CVs, missed deadlines, and too many drafts it took to get a somewhat ok paper.
Perhaps, those were fake comments left by the competitors trying to sabotage the CV Centre? After checking them, I can say that those were real comments. How do I know that? Well, it's evident from the replies left by the company representatives. They were thanking the commenters for honest feedback, explaining the situation on various orders' status, and apologizing for unpleasant experience and failure to satisfy the client. So, even the company doesn't deny they are far from what's advertised. At least they are honest about that here.
Guarantees
Judging from the CV Centre reviews, the company has a money-back guarantee which it follows. I checked the terms and conditions on the site, and indeed, they promise to return your money if you don't feel satisfied with their work. The only condition is that you cannot claim your money back if the company hasn't heard from you for two weeks. Well, it seems fair enough to me.
But there is another guarantee, given by the founder himself and stated throughout the site, and it says that they will revise your CV until you are satisfied. The good thing is that you are getting unlimited free revisions with that promise. The bad thing is that the CV Centre writers seem to rarely get it right with the first or second draft, so I am wondering how they can call themselves professionals after that.
Types of Services
Besides CV writing, there are lots of other services the CV Centre offers to its visitors. Among them are cover letter writing, business photo editing, proofreading, translation, interview coaching. There are several services for making your LinkedIn page and other social profiles more attractive to employers, as well as providing assistance with completing application forms, and even getting a CV templates pack.
So, there are lots of options the CV Centre wants you to spend your money on, but there's no guarantee any of it will help you get the job you want. They even say it themselves on the site, and it makes sense, so why order any of those things? Let's see how they deal with a standard CV first.
Ordering Process
Placing an order is extremely simple on this site. Once you choose the services you want, they are added to the cart, and you can then check out, providing some basic details like your name and email. If you have a CV Centre discount code, you can enter it now. Proceed with payment, and then you wait to be contacted and asked the details the writer will need for completing your order.
Prices and Fees
There are lots of services on the CV Centre's site, and some of them may seem too expensive, but the main one, which is CV writing, is more or less in the same price range as on other similar companies. Obviously, the CV Centre can get away with somewhat higher prices due to being associated with the bestselling career's author. So, a CV done by a standard writer will cost you 65 pounds, one written by a senior consultant gets the price increased to 164 pounds, and you'll be charged 365 pounds for getting a CV written by James Innes himself.
Fortunately, the prices can be reduced if you have the CV Centre voucher code. One way of getting it is simply by googling it. I got 10% off on my order that way, making the price a bit more bearable. Too bad there isn't a voucher code to increase the quality of the CV writing service.
Paper Quality
It took 3 days for the CV Centre to get back to me. In 5 more days, I received the first draft. These guys obviously don't hurry. I also noticed that on the site, the bundle offer is somehow promised to be done in less time than just a CV. How does that work?
Anyways, none of those timelines turned out to be true. What really disappointed me is that all that time wasn't enough to write a proper paper. There were typos and spelling mistakes, some information was left out, and the writer even added parts that weren't true for me! I mean, sure, those skills would increase my chances of being considered for a position, but I'd be fired the next day after it became evident that I had lied on my CV.
So, I asked the writer to fix the paper. The second draft, which also took almost a week to complete, was a considerable improvement, but still far from what I was expecting for my money. I decided to waste no more time and asked for a refund.
Customer Support
The customer support works pretty well on this site, and when I asked to get my money back, the agent didn't try to talk me out of it. She did offer me to change the writer, and when I answered that I had no time for it, simply said that she was sorry for my experience. She also warned me that it may take some time until I get my money back, and that was true.
What I didn't like about customer support is that there is no live chat on the site. You can only contact them by phone or sending an email, but finding those is not too obvious and takes more clicks than it should.
Offers and Extra Services
Among numerous additional features, there is a free CV review service you could use to get comments on your existing CV. Actually, this may be the most useful thing on the site. Since it's obviously their goal to make you believe they are CV experts, they do approach this task seriously and provide some valid suggestions. Sadly, the writer didn't even follow some of them when I got my paper. So, you can get your free CVcentre review and see whether there are any good points you can use.
Another extra feature is Express Delivery. It costs 20 pounds to get your first draft within 24 hours, and 60 pounds within 6 hours. I didn't order it because many people on TrustPilot complained about not getting their promised first draft within those time frames. The manager apologized and said they were considering removing this feature because the writers couldn't cope with the flow of orders, but well, it's still there, and someone's gonna regret using it.
Visit site