Executive Summary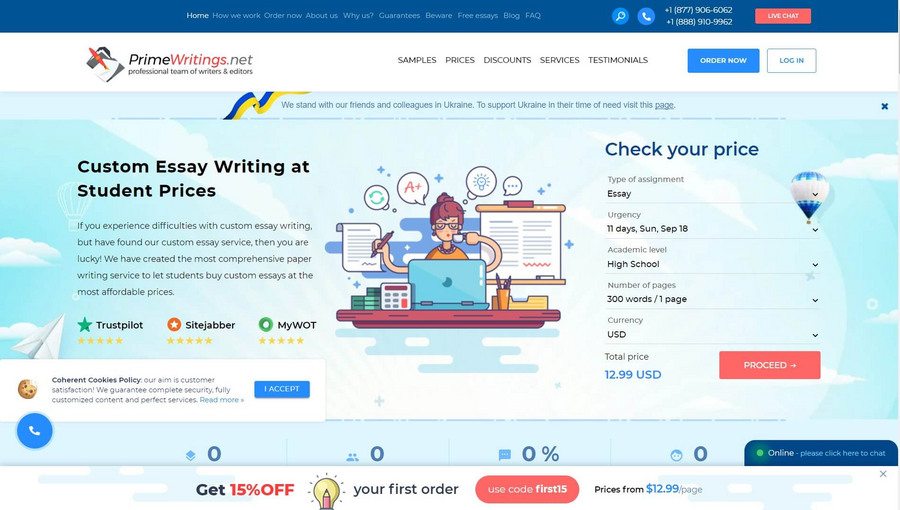 Service features

| | | |
| --- | --- | --- |
| Overall Rating - | The Lowest Price - | Minimum Deadline - |
Primewritings is not exactly a scam writing service, but it is somewhat of a fraud. Despite the positive image they try to create on their site, as if this was the best company of such kind in the world, they fail to satisfy customers with the quality of their papers. They offer many features they can charge you money for but fail to render proper service.
Service Review
Upon visiting the Primewritings website, I had a good impression of this company. It has a neat design, things are easily located, everything you need to know is covered. You can easily access the list of their services, testimonials, guarantees, check sample essays, and even get a primewritings discount code.
I hoped this was one of the more rare writing services students could trust. Those hopes slowly started to dissolve once I began reading Primewritings reviews, and were completely gone after I had my own experience with the company and received my paper. "Is primewritings legit?" you wonder. You're welcome to find that out in this review of mine.
Pros and Cons
PROS:
A wide range of services
A convenient order form
Discounts
CONS:
Only 2 days for a free revision
Prices higher than average
Low-quality papers
Lots of paid features
Online reputation
Primewritings has been around for more than 10 years, and they even dare to call their service the best out there.
Well, I'd trust customers on that, but at first, when I checked Sitejabber for Prime Essay Writings reviews, I only found comments from 10 clients there, 8 of which were completely satisfied and gave it the maximum rating of 5 stars, and 2 were less happy (1 and 2 stars). Ok, that's a good ratio, but 10 reviews for such a fantastic company helping students since 2006?! And TrustPilot had no notion of such a company. Come on, something's not right here. Is primewritings scam after all?
Well, I googled some more and found more reviews, proving that this company is not a scam, as all of the reviewers received their papers, but those were hardly worth the money they paid. Some were delivered with delays, others had difficulty with getting a revision or a refund.
Guarantees
When it comes to guarantees, Primewritings has a lot to promise. On that page, they say that the writers will provide you with a unique custom written paper on any topic, free of plagiarism, delivered in time, and so on.
The Terms are more specific, so, to get a Primewritings refund, you need to apply within 2 weeks after the order's deadline. It's also possible to get a full refund if you cancel the order before 10—19% of the deadline passes. After that, the percentage of the money you can get back reduces as the deadline becomes closer.
The revision rules were an unpleasant surprise. A free revision is available within 2 days after the deadline, but it is longer for papers over 20 pages long.
Types of Services
You won't see the list of services Primewritings offers by visiting the "Our Services" page, only a list of promises. The price calculator at the top and the links at the bottom of the main page will be more helpful in that. In short, they offer writing all kinds of academic papers of all difficulty levels, as well as formatting, editing, rewriting, revision, passing online tests, preparing presentations.
Ordering Process
Primewritings does not offer anything special in terms of placing an order. You still have to fill in a lengthy form providing the paper details, your personal and payment information, as well as applying your primewritings discount code. Everything is straightforward and quite convenient here.
Prices and Fees
Despite Primewritings claiming to have prices which are lower than the average ones on other services, they aren't really. Let's take a 1-page essay for high-school students, which should be a piece of cake for professionals they boast of having. It costs $13, or $12.99 as they like to write it here in a pathetic attempt to make it look cheaper, while some of the best writing services would only charge about $8-10 for this.
Luckily, there are discounts for new and loyal customers, but you may still end up paying more than on other sites, which, unlike Primewritings, offer unlimited revisions. You can increase the revision period to 14 days if you pay 30% when placing an order and checking an Extended Revision box. Should you not need a revision after all, this additional fee will not be reimbursed.
Well, all that is extremely dumb. How can I know if I will need more time for a revision before I get my paper? Seems like a trick to make you pay more for nothing out of fear of not getting a quality paper in the end. So much for "prices 15% lower than average."
Paper Quality
I was hoping the quality of my paper would be worth the money since I checked the samples available on the site and they looked decent enough. Unfortunately, you can't get the samples of a particular author's work. The paper I got (shortly before the deadline, despite its small size and almost a dozen days to write it) was below average. It certainly wasn't written by a person whose native language is English, and it wasn't satisfying content-wise. I tried to get it fixed with a 2-days free revision, but the writer failed to respond in time.
Customer Support
I was lucky and was able to contact customer support via live chat and received adequate answers to my questions. Some reviewers, however, complain that trying to reach it by phone was problematic, and once someone answered the call, they failed to provide any help. I also was unsuccessful in trying to receive a refund for a mess of a paper I received.
Offers and Extra Services
There are a lot of extra services on Primewritings, or, I should I say, a lot of things that should be free or have no other purpose than to get more money from their customers.
Visit site