Executive Summary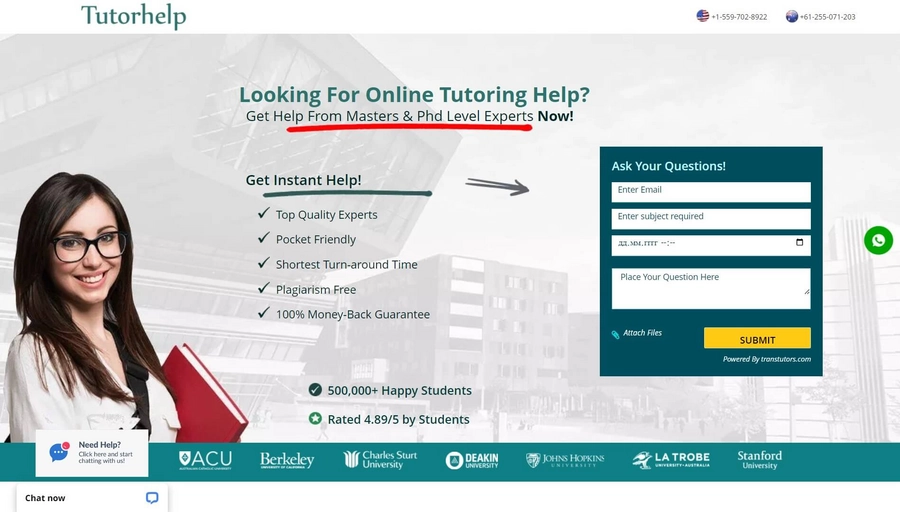 Service features

| | | |
| --- | --- | --- |
| Overall Rating - | The Lowest Price - | Minimum Deadline - |
Is Tutorhelp legit or not is hard to say as there is no much information about this service. You have to do extensive online research to find at least any feedback or mentions about this company. If you are looking for a tutoring service or you need a writer to do your homework, I hope my review of Tutorhelp writing service will help you to make the right decision.
Service Review
TutorHelp is an online service that has been provided academic help for students for almost seven years. They do offer tutoring services on different subjects as well as educational writing services for different types of papers. The company states that they have a team of experts with Master's and Ph.D. degrees from top universities. The overall number of satisfied customers is over 500,000.
Pros and Cons
PROS:
A user-friendly website
24/7 support
CONS:
Price is available only after a quote
No short deadlines
No trustworthy reviews available
Quality doesn't match the price
Online reputation
Tutorhelp ratings are 4.89/5 according to their testimonials on the main page; however, this information cannot be checked. There are only ten Tutorhelp reviews on Trustpilot and the oldest one dated January this year, which makes their statement about seven years on market unbelievable. There are also no Tutorhelp Reddit or Sitejabber reviews. The Tutor help review page on Facebook is also empty, and the latest post was made in October 2018. Is Tutorhelp reliable? Taking into consideration all the facts, I don't think so.
Guarantees
Tutorhelp refund policy states that you may ask for your money back in case your assignment is not delivered on time. The exception is an insignificant delay for up to 10% of your initial deadline. This means that they do not respect a lot your time and the urgency of your assignments. Refund is possible only after you request a revision or in case customer support doesn't give you any reply within 48 hours.
Revisions, any clarifications or improvements of the paper can be requested within 15 days after the work has been delivered to you. Is Tutorhelp scam? According to their money back guarantee, I cannot say so, however, it does not sound 100% reliable.
Types of Services
TutorHelp offers academic help on different topics like Accounting, Math, Finance, Engineering, Computer Science, Economics, Management, and Statistics. You can order either a solution to your assignment or paper writing option such as essays or dissertations writing assistance. Tutoring service is also available; however, no details on the process of the tutoring sessions are available.
Ordering Process
Placing an order starts with getting a quote. The only options available to choose in the order form are the subject of your assignment and the deadline. After you add all the instructions needed, you will be able to get a free quote within a couple of hours. This is not very convenient since it is not an option for the assignments with urgent deadlines. Besides, you never know whether they can handle your task or not.
Prices and Fees
No prices are indicated on the TutorHelp website, and they don't even let you know the minimum sum they charge. The only way to calculate the cost is to fill in a free quote form and to wait for the reply from service representatives. Tutorhelp discount code does not exist. Information on prices and discounts is not available either. Out of curiosity, I have decided to know the price for a dissertation chapter of 10 pages with the 14-day deadline. Within 4 hours, I got my quote, and the price was $230, which was out of my budget.
Paper Quality
The lack of information on this service and the quote I got for my dissertation chapter made me refuse this deal, and I didn't order anything from TutorHelp. However, based on their customers' reviews, the quality of papers doesn't match the price they request. The delivered assignments do contain grammar mistakes, and some of them don't match the initial instructions properly. Moreover, the revision process doesn't resolve all the issues in a timely manner.
Customer Support
Customer support replies fast, and you can get your quote within 1-4 hours from the time you have submitted it. They are also available 24/7 and you can contact them via the chat or over the phone. Both US and Australian landline numbers are available for you at any time.
Offers and Extra Services
No additional services are available on TutorHelp website. No information on price or extra features is mentioned. You can receive at least any details on your assignment only after they send you a quote. And that's the main reason why I didn't order from them. The lack of information is one of the most significant problems with this service.
Visit site